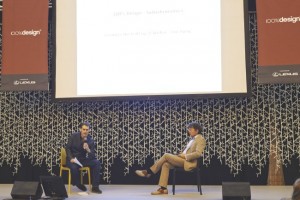 Turkishceramics makes its London Design Festival debut today at 100% Design 2013 collaborating with London-based architect and interior designer, Ferhan Azman, founder of Azman Architects, to design Chockablock, a ceramic installation for the International Pavilion. The installation providesa bar, meeting areas, a private events space and a VIP area. Turkishceramics is the lead sponsor of the new International Pavilion at this year's event.
Derived from the Turkish word 'Çok Kalabalık' meaning a place that is full of people or things, Chockablock is the new social destination for 100% Design. The 54 metre long bar showcases the quality and variety of contemporary Turkish ceramics, integrating a bar space, meeting and VIP areas. Chockablock is made up of a variety of sculptural tiles covering the installation's main bar area and dramatic 4 metre columns.
Reflecting the quality, strong design values and innovation of Turkish ceramic products, Azman's design approach is highly-curated and creative; her design thinking can be seen in the practice's previous projects such as the Alexander McQueen Flagship Store in London and the Vivienne Westwood exhibition at the Victoria & Albert Museum. Commenting on the installation's design, Ferhan Azman said:
"Ceramic manufacturers in Turkey are producing tiles and sanitary ware of great variety and technical sophistication. In our design for the International Pavilion at 100% Design this year, we have chosen some intriguing products which we've used in dramatic and unexpected ways."
New to 100% Design, the International Pavilion brings together talent from countries and cities around the world such as Turkey, Argentina, France, Korea, Shenzen, Südtirol and Taipei. Turkishceramics represents over 30 manufacturers and exporters. Bahadir Kayan, representative for Turkishceramics, said:
"We're very excited about the UK debut of Turkishceramics at 100% Design. Chockablock is a striking installation and is the perfect social destination for visitors to gather. Combining innovative, quality design with personal connections is important to Turkishceramics. We're pleased that we can share this experience with the dynamic design and architecture community of London at 100% Design."
The Turkishceramics installation (IP500) and stand (IP400) can be visited at the International Pavilion at 100% Design at Earls Court from 18-21 September.
For more information on 100% Design please visit www.100percentdesign.co.uk. For more information on Turkishceramics please visit www.Turkishceramics.com.
Turkishceramics is hosting two seminars during 100% Design:
1. Eric Parry in conversation with Rory Olcayto, Architects' Journal in the Main Auditorium on 18 September, 1:30pm – 2:15pm
2. Contemporary Architecture and Design in Turkey, chaired by Emma O'Kelly, Editor-at-large at Wallpaper*. Speakers include Ferhan Azman, founder of Azman Architects; Gokhan Avcioglu, founder of GAD Architects; and Bilge Nur Saltik, product designer. The seminar is located in the International Pavilion on 19 September, 1:00pm – 1:30pm